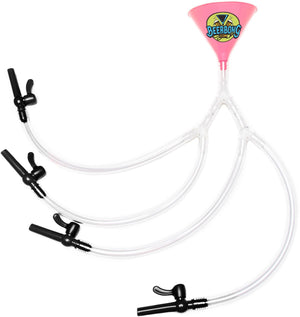 Pink Quad Valve Beer Bong
Quad Beer Bong
2' Tubing (Made in USA)
Leak Resistant On/Off Valve
Leak Resistant Y-Valve
Beer Funnel (Made in USA) - The funnel it self can hold up to 40 oz. of your favorite beverage. 
Tubing (Made in USA) - Extra thick tubing is made with food grade safe rubber plastic. 
On/Off Valve - The advanced valve not only lets you control the beer but also it eliminates spills and sticky messes. (Specially Made for Beer Bong)
Y-Valve - Leak resistance Y-Valve to separate the tubing for racing. (Specially Made for Beer Bong)
This large double beer funnel with ultimate valve is great for chugging beer with your friends while racing them. 
Always remember that too much beer, especially in a short amount of time, can be dangerous. Please drink responsibility and in moderation.
The Quad Beer Bong Funnel is the product you didn't think you need, but once you have it, something you won't want to live without.