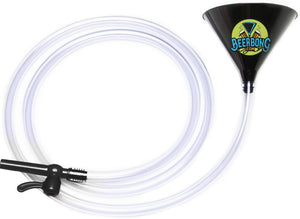 Long Black Beer Bong - 10 ft. Tubing
Premium Beer Funnel (Made in USA)

Long Tubing Length (Made in USA)

Leak-Resistant Valve

Thicker, Heavier-Duty Funnel (40 oz.) 

Easy to Hand Wash
Description 
Long Beer Bong

 

– This versatile long beer bong funnel can be used for bachelor events, St. Patrick's Day, college parties, and more!
Larger 40-oz. Funnel (Made in USA) – Perfect for chugging beers like a pro.
Exciting College Funnel Colors – Choose between a bunch of fun colors to match your school, parties, or events.
Tubing (Made in USA) – Each piece of extra-thick long tubing is made with kink-free, non-toxic food-grade safe rubber plastic for long-lasting strength and resiliency.
When you really want people to loosen up and have a bit of fun, there's nothing wilder and crazier than getting a drinking buddy to guzzle 40 oz. of their favorite beer in this generously oversized
 Beer Bong Funnel!
Always remember that too much beer, especially in a short amount of time, can be dangerous. Please drink responsibility and in moderation.