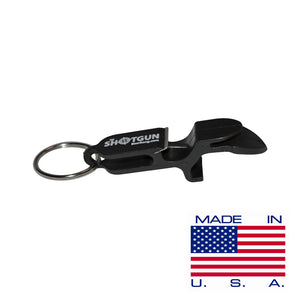 Shotgun Key Chain - 4 in 1 Key Chain 
If you like to drink beer and you like to drink it fast, there's a new invention to help you speed slake your thirst, The Shotgun Opener! Shot-gunning beer has been around since beers have been sold in cans. To shotgun a beer, you poke a hole in the side of the can, place your mouth over the hole, and then pop the top opening of the can. This two hole combo allows the beer to flow as fast as you can drink it. The downside of shot gunning is that using a knife or traditional can opener often leaves a jagged serrated edge that can cut your hand or lips.
The Shotgun Opener makes this American college tradition easier, safer and a heck of a lot faster! The Shotgun Opener is made of heavy duty safety plastic and punches a clean, non-jagged hole in your beer can. It's quick and easy and it comes attached to its own key chain so you can keep it handy (but do not drink and drive). The Shotgun Opener takes the guesswork and danger out of the equation and lets you get to the real work at hand!
For the days you just want to relax with your favorite cold beverage, The Shotgun Opener also includes a can tab and bottle opener. This little tool has been called the Swiss army knife of beer drinkers.